Oncomedics joins the French Health Care Association as a member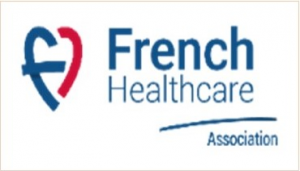 A diversified and high quality network to meet international markets with innovative French solutions
Launched by the Ministry of Europe and Foreign Affairs, the French Healthcare brand has an international ambition: to promote the influence of French healthcare know-how and technologies.
Since January 2018, the French Healthcare Association has brought together French companies, health establishments, research and training institutes that wish to actively participate in this collective dynamic and promote their activities internationally.
Its members, from start-ups to large groups, reflect the diversity of the French healthcare ecosystem: public and private healthcare establishments, construction companies, architecture companies, hospital engineering companies, the pharmaceutical industry, biotechnologies, medical devices, medical technology manufacturers, medical equipment manufacturers, digital health players, etc.
The diversity and quality of this network should enable French responses to international markets involving multiple players.
The benefits of membership include:
The right to use the brand in corporate communications & at international international events (in accordance with the rules of use)
Join a network (members, partners), do networking
Benefit from collective communication actions, via communication tools tools developed by the Association or its partners
Participate in working groups and implement concrete projects: welcoming foreign patients, antibiotic resistance, cancer, hospital infrastructure, chronic diseases, medical technologies...
Access privileged diplomatic & business meetings
Be informed of international healthcare events & opportunities ( calls for tender, requests from foreign principals... )
Access to major international trade shows on shared stands, under the French Healthcare banner
Benefit from promotional and networking events at trade shows
Participate in hosting foreign delegations
Disseminate international news via the Association's website, social networks & the French Healthcare Association newsletter
Oncomedics joined the French Health Care association in April 2023