Launch of ONCOG clinical trial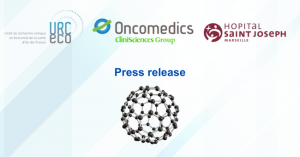 Inclusion of the First Patient in the ONCOG Clinical Study for Personalized Treatment of Metastatic Colorectal Cancer Using Oncogramme®
09-19-2023
Oncomedics is pleased to announce the initiation of the ONCOG* clinical study, focusing on the utilization of the in vitro diagnostic medical device Oncogramme®-colorectal in the management of metastatic colorectal cancer. The study has successfully enrolled its first patient at the beginning of the second semester of 2023.
The Oncogramme®-colorectal is an in vitro diagnostic medical device designed to provide oncologists with therapeutic decision-making support. It assists in identifying the combinations of anti-cancer agents to which cancer cells are most sensitive by directly testing them on a patient's surgically removed tumor. This involves cultivating cells extracted from the patient's tumor alongside various therapeutic molecules, followed by the analysis of the tumor cells' response to these anti-tumor agents.
The ONCOG clinical study aims to evaluate the impact of personalizing the treatment of metastatic colorectal cancer using the Oncogramme® on progression-free survival and its medical-economic implications for patient care. This study is supported by funding from the French Ministry of Health's Forfait Innovation. The study plans to enroll 450 patients with metastatic colorectal cancer, divided into two groups: a standard treatment group (choosing treatment in the conventional manner) and an Oncogramme® group (utilizing Oncogramme® results in treatment selection).
These 450 patients will be recruited across approximately fifty healthcare institutions actively participating in clinical oncology research throughout France. The coordinating center for the study is Saint Joseph Hospital of Marseille, specifically led by Dr. Hervé Perrier, a medical oncologist, and his Clinical Research Department.
The primary objective of the study is to compare progression-free survival 12 months after the start of treatment for each of the two patient groups. A budgetary impact study, led by the team of Professor Isabelle Durand-Zaleski (URC Eco Paris Île-de-France, AP-HP), complements this approach.
The initial indication targeted by the Oncogramme® is stage IV colon cancer, and it will soon be extended to other cancers such as breast cancer and ovarian cancer, aiming to provide a personalized cancer therapy for as many patients as possible.
About forfait innovation
The Forfait Innovation is one of the three tools of the French Ministry of Health in support of medical innovation. Since its revision in 2015, Oncogramme® is the 8th project to receive approval from the French National Authority for Health (HAS) for exceptional coverage and the 10th since 2014 (Opinion No. 2019.0064/AC/SEAP/SEESP of December 18, 2019). HAS's mission is to evaluate the eligibility of requests based on their innovative character and the relevance of the study protocol. The Forfait Innovation is granted following the advice of HAS.
As emphasized by the Ministry of Health, "The Forfait Innovation consists of exceptional and temporary coverage conditioned on conducting a study aimed at providing missing clinical or medical-economic data." It is not merely early financing or a mechanism for financing clinical or medical-economic research. Instead, it is an innovative process that allows secure access to breakthrough innovations for patients while structuring and overseeing the collection of missing clinical and/or medical-economic data for more robust future decision-making.
Oncomedics is a biotechnology company specializing in personalized cancer treatment. It develops in vitro diagnostic medical devices that provide practitioners (surgeons, pathologists, and oncologists) with decision-making support to identify the most effective treatments for patients. Oncomedics' mission is to enable patients to receive personalized therapy through the Oncogramme®. Founded in 2006 by Christophe Lautrette and Stéphanie Giraud, Oncomedics has established its laboratories and production unit in Limoges, Nouvelle Aquitaine, France. Following the favorable opinion of the French National Authority for Health, it received exceptional coverage under the "Forfait Innovation" for its innovative diagnostic test, Oncogramme®, for an initial indication.
Press contact : <info@oncomedics.com>
Saint Joseph Hospital of Marseille was established in 1919 by Father Jean-Baptiste Fouque with the aim of providing free Catholic hospital services to the needy. Today, it is a private, non-profit healthcare institution (ESPIC).
Saint Joseph Hospital is the second-largest private employer in Marseille (with 2,816 employees, 301 self-employed physicians, and 112 salaried physicians) and the third-largest healthcare facility in the Provence-Alpes-Côte d'Azur region across all sectors, following the University Hospitals of Nice and Marseille.
It hosts the first maternity ward in the Provence-Alpes-Côte d'Azur region, with 4,835 births in 2021. The hospital, with 781 beds and short-stay places distributed across 44 services and units, covers nearly all medical, surgical, and obstetric specialties, and a state-of-the-art technical platform.
Saint Joseph Hospital actively participates in emergency care, treating nearly 60,000 emergencies annually, and has been pursuing a continuous quality improvement approach for many years.
Clinical research is one of Saint Joseph Hospital's top priorities, with nearly 200 clinical research projects conducted by physicians and the clinical research team each year. For many years, Dr. Hervé Perrier's oncology department has been one of the most involved in clinical research, particularly in digestive cancers.
Press contact : YESSAD Karine <kyessad@hopital-saint-joseph.fr>
The Clinical Research Unit in Health Economics (URC-Eco), led by Professor Isabelle Durand-Zaleski, is a cross-functional structure within the Directorate of Clinical Research and Innovation (DRCI) of the AP-HP (Public Hospitals of Paris). Established in 2007, its goal is to provide the necessary support for conducting economic evaluations of diagnostic, therapeutic, and organizational innovations.
Press contact : Pr Isabelle Durand-Zaleski < isabelle.durand-zaleski@aphp.fr>
Contexte
Colorectal cancer is the second leading cause of cancer-related deaths in France. Its incidence was approximately 45,000 new cases per year in 2017, with a 5-year survival rate estimated at 63% in 2015 (INCa data). Metastases are observed in 40% to 60% of colorectal cancer cases. The 5-year survival rate varies from 5% to 15% among patients with metastatic colorectal cancer (mCRC). Treatment expenses for colorectal cancer were estimated by the National Health Insurance in 2016 at €1.6 billion annually, accounting for approximately 10% of total cancer-related expenditures. Patient care for colorectal cancer is personalized within the framework of various Cancer Plans, including a multidisciplinary consultation meeting (RCP) to develop recommendations, aligning the diagnostic announcement and the initiation of treatment with the patient's consent.
_______________________________
*ONCOG study: Impact of using the Oncogram® to guide 1st-line treatment in patients with metastatic colorectal cancer on progression-free survival, management costs, efficiency and quality of life compared with usual care.
ID-RCB : 2021-A01730-41 NCT05299840