Revolutionizing Healthcare: Oncomedics' Dynamic Presence at MEDICA 2023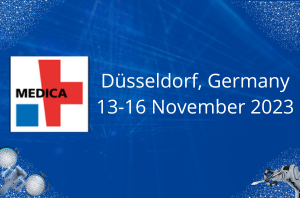 Innovating Health Solutions for a Better Tomorrow
Oncomedics is pleased to announce its participation at MEDICA 2023.
Held in the city of Düsseldorf, with over 4,500 exhibitors from 66 nations and an international audience of over 81,000 participants, MEDICA is recognized worldwide as one of the leading B2B medical trade fairs.
The event offers a wide-ranging exhibition of innovative products and services in all medical sectors: medical imaging, laboratory technology, diagnostics, healthcare IT, mobile health, physiotherapy/orthopedic technology, medical consumables...
MEDICA offers an exceptional platform for industry leaders to showcase innovations that have the potential to redefine healthcare practices.
Oncomedics' presence at MEDICA 2023 illustrates our commitment to the global medical community. We will be presenting Oncogramme®, our functional test for predicting the anti-cancer activity of existing drugs by testing them directly on a patient's operated tumor, using an approach comparable to that of antibiotic susceptibility testing.
Our aim is to facilitate discussion and the exchange of knowledge between industry experts, diagnostic laboratories, hospitals and political decision-makers.

Join us in contributing to the debate on the future of healthcare.