Oncogramme Technology
Oncomedics' mission: personalised therapy
At present, the majority of cancer drug treatments are still based on consensus chemotherapeutic treatments, designed and validated to be effective on the largest number of patients (the "average patient"), without any particular adaptation to the individual profile. However, each patient is unique, due to the inter- and intratumoral heterogeneities inherent in any cancer. Thus, in more than 50% of cases, chemotherapy has no effective therapeutic effect on the disease and generates side effects that weaken the patient. Increasing the precision and effectiveness of chemotherapy treatments in order to improve patient care and thus reduce undesirable effects and associated costs has become a public health necessity.
How can treatment be personalised?
Each cancer patient requires special attention, ideally involving individualisation of treatment. Targeted therapies are a first line of defence against the disease, but few people are eligible for them. Most patients today need chemotherapy to fight cancer effectively.
Based on a model similar to the antibiogram, our French laboratory has developed and marketed its own functional test. Since 2016, patients with stage IV colorectal cancer have been able to benefit from the
Oncogramme®
: a unique solution to personalise chemotherapy.
This innovative in vitro diagnostic medical device measures the efficacy of existing chemotherapy protocols on a patient's tumour sample before treatment.
With the Oncogramme®, the patient's future treatment becomes adapted and improves the benefit/risk balance.
A functional test in oncology is a laboratory technique aimed at determining the sensitivity of a patient's tumour to one or more anti-tumour agents. The principle consists of culturing a patient's tumour cells and then placing them in the presence of different therapeutic molecules. The final response of these tumour cells to the anti-tumour agents is then analysed, without taking into account intermediate genomic or protein data, but by studying only the long-term effect of the therapies on the activity of the cancer cells (mortality, proliferation, etc.).
Only the consequences of the addition of the tested therapeutic molecules on the development and survival of the patient's tumour cells are then observed.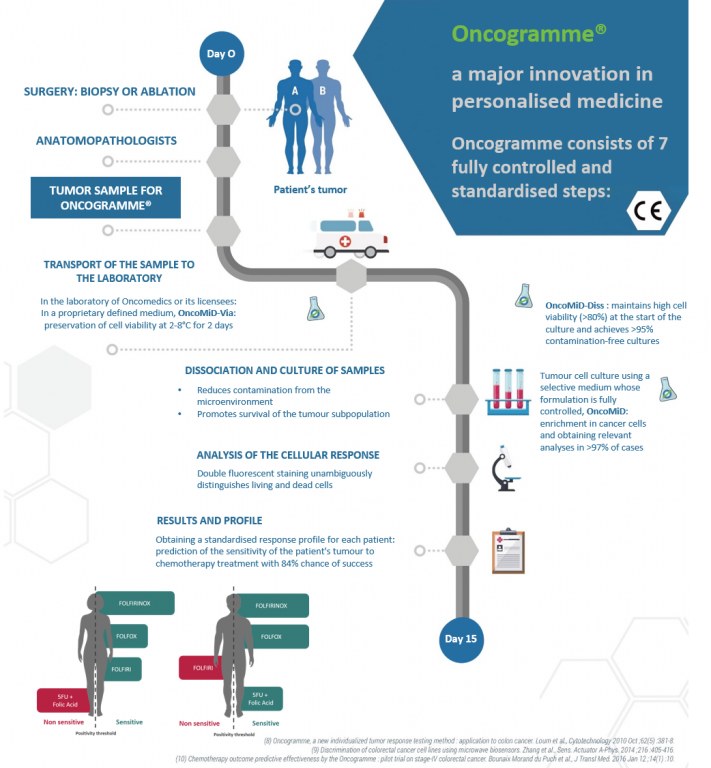 For more Information: